ABOUT US
The Electric Vehicle Transportation Center (EVTC) supports the U.S. Department of Transportation's strategic goal of planning for near-term integration of alternative fuel vehicles as a means to build a sustainable transportation system and to reduce harmful emissions. The project objectives are to perform research and development of technologies, standards, planning and policies to ensure seamless integration of electric vehicles (EVs) into a complex transportation network and supporting electricity grid. The EVTC will bridge the gap between deployment of electric vehicles and the traditional transportation system.
The Electric Vehicle Transportation Center is a University Transportation Center supported by the U.S. Department of Transportation and is a research and education effort to help create the nation's electric-vehicle transportation network. It is a five-year program beginning on October 1, 2013 and ending on September 30, 2018. The EVTC is operated by the University of Central Florida's Florida Solar Energy Center (FSEC), and its partner universities are the University of Hawaii and Tuskegee University. The program is funded under DOT contact number DTRT13-G-UTC51. The EVTC's goal is to leverage the resources of the University of Central Florida and the two partner institutions to conduct research and development, and to educate scientists, engineers and technicians of the future.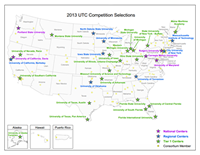 View a larger map of selected universities.
Research conducted by the EVTC will help transportation planners prepare our nation's highways for the influx of electric vehicles, while developing "smart grid" applications that will strengthen the ability of our electric system to accommodate the power demands of a future electric vehicle highway system. Electric vehicles need a reliable, predictable network of charging stations to allow them to travel long distances without the fear of "running out of fuel." Workplace charging, community charging, and highway fast-charging systems are in both deployment and development.
The EVTC R&D agenda is comprised of 21 individual projects and their respective teams that conduct the detailed research. A summary of results for each project may be found at EVTC Research.
The University of Central Florida's EVTC is among 33 universities funded by the U.S. Department of Transportation to address critical transportation challenges facing the nation, and is the only center focused on electric vehicles. Transformation of the U.S transportation system into one that uses electricity for fuel and the integration of this system into a dynamic electrical grid will occur over many years and require extensive research, development and education.
Principal Investigator:

David Block
EVTC Director
University of Central Florida/FSEC
1679 Clearlake Road
Cocoa, FL 32922-5703
block@fsec.ucf.edu
321-638-1001