EVTC Spotlight
General Interest
Meetings & Conferences
March 31 - April 1, 2016 | 2016 UTC Conference for the Southeast | Knoxville, TN
May 2-5, 2016 | Alternative Clean Transportation (ACT) Expo | Long Beach, CA
May 29 - June 2, 2016 | 229th Electrochemical Society Meeting | San Diego, CA
June 19-24, 2016 | International Meeting on Lithium Batteries (IMLB 2016) | Chicago, IL
June 27-29, 2016 | iTEC 2016 | Dearborn, MI
July 20-21, 2016 | EV Roadmap 9 | Portland, OR
October 2-7, 2016 | Electrochemical Society, Prime 2016 | Honolulu, HI
October 17-20, 2016 | EV Summit | Cocoa, FL
---
"Smart City," EVTC and Orlando Collaborate on Application
EVTC and UCF staff participated in an intense and complex effort to assist City of Orlando senior administrative staff in submitting their application for the U.S. Department of Transportation's Smart City Challenge. The Smart City Challenge is the USDOT's signature effort to, "...create a fully integrated, first-of-its-kind city that uses data, technology and creativity to shape how people and goods move in the future." Unfortunately, Orlando was not selected as one of the seven finalist that will move on to final round applications for the $50 million in grants. The effort was an excellent exercise in visioning and there are plans to reconvene the team to further develop the relationships and projects.
Applicants were strongly encouraged to collaborate with University Transportation Centers. EVTC was able to provide expertise in EV technology, infrastructure, standards and vehicle-to-grid applications. The center's expertise was particularly valuable in addressing the Vision Element #8: Smart Grid, Roadway Electrification and Electric Vehicles. Information on the Smart City Challenge can be found at https://www.transportation.gov/smartcity.
---

EVTC & FSEC Veteran John Harrison Retiring
Mr. John Harrison, Senior Research Analyst with 36 years of service, will be retiring on March 31st. Much of what John contributes to EVTC has low visibility but is invaluable in helping EVTC accomplish its mission. He has compiled innumerable analysis and reports, updates EVTC's publications on our website and is our principle interface with the Transportation Research Board's, Research in Progress (RiP) and TRID research databases.
John has also served as FSEC's Solar Training Program Manager. He has managed a wide range of solar program implementations at FSEC, including thermal certification programs and the Solar Weatherization Assistance Program, which installed over 800 solar thermal systems on low income residences.
Obviously, a person of John's considerable talents and experience will be missed. All of us at EVTC and FSEC wish him the very best.
---
EVTC Leads EV Power Grid Resource Panel at IEEE's iTEC 2016
Katherine McKenzie, EVTC Program Manager, Hawaii Natural Energy Institute at the University of Hawaii, suggested the idea for an "Electrified Transportation as a Power Grid Resource" panel for the June IEEE iTEC 2016 conference in Michigan. The panel was organized collaboratively within the EVTC program, Katherine will be the moderator and a panelist. Richard Raustad, Program Director for EVTC at the University of Central Florida will also participate on the panel that includes Mark Burdge from VIA Motors and Andrew Meintz from the National Renewable Energy Laboratory.
The panel will discuss the opportunities EVs provide to help transform the nation's power network into an efficient, integrated "smart" grid and to help add distributed energy sources as an easily adoptable power option. The panel will focus on the diverse advantages and challenges offered by EVs connected to the grid. Applications and impacts of powering EVs in conjunction with distributed solar and wind power generation will be addressed, along with demand control, energy storage, the role of EVs in back-up power, and managing load at the building level. The utility's and manufacturer's perspectives will also be shared, along with a case study; fast-forward to Hawaii in 2045, the first state in the nation where 100% renewable power generation is required by law.
---
Hawaii EVTC Researcher Applies For Battery Health Monitoring Patent
Dr. Matthieu Dubarry and a team of researchers at the University of Hawaii has applied for a provisional patent entitled, "Apparatus & Method for Estimating the State of Health of a Battery via Updating the OCV and SOC relationship." The patent addresses issues with accurately determining the state-of-charge as batteries begin to age.
The problem: As an example, after about a year of life a mobile phone battery starts to do funny things; you look at your phone and it indicates 30% charge, you put it down and pick it up 15 minutes later and find that you are down to 15% charge. While this is an annoyance for cell phones and laptops, accurate state of charge (SOC) can be critical for EVs and residential and commercial utility storage.
The mechanism: There are accurate ways to measure the State of Health (SOH) of a battery, but they are quite expensive. Cell phones tend to use an inexpensive method which uses open charge voltage (OCV) and state of charge (SOC) curves from the battery manufacturer. These OCV/SOC curves are dynamic and change over time, but in most cases they are never updated after the original equipment manufacturers loads them. The result is that the SOC estimate becomes inaccurate as the battery degrades.
The solution: University of Hawaii researchers are patenting a way to dynamically adjust the OCV/SOC curves with minimal calculation and power consumption. This will help users know with much greater accuracy how much charge is really remaining in their battery. This will also allow system designers to closely monitor the evolution of the SOH of batteries in the field.
For more information, contact the University of Hawaii's Office of Technology Transfer and Economic Development at: http://universityofhawaii.technologypublisher.com/technology/21496
---
EVTC's 2016 EV Transportation & Technology Summit
The Electric Vehicle Transportation Center will again host over three days of meetings with key EV stakeholders at the Florida Solar Energy Center, October 17-20, 2016. EVTC's annual EV Transportation and Technology Summit focuses on transportation planning and infrastructure requirements needed to support the adoption of many forms of electric vehicles. The Summit provides an update on the current state of EV deployment, technology and planning.
This year's Summit will focus on updates to the technologies, planning and policies needed to support the deployment of electric vehicle transportation. Topics include automated and connected EVs, transportation policy and planning, fleet management, workplace charging and the life-cycle assessment of EV vehicles. Panel discussions, two technical workshops, lab tours and a vehicle display are also planned for the Summit. A preliminary program and other
details can be found at www.evsummit.org.
Last year's Summit speaker list represented a broad cross-section of those involved in the deployment of electric vehicles and included, Ashley Horvat (PlugShare), Kristine Williams (Center for Urban Transportation Research) and Christian Ruoff (Charged Magazine). PDFs of all 2015 Summit and workshop presentations can be viewed at the Summit and EVTC websites. Videos of the presentations have been posted by Zachary Shahan on the CleanTechnica website. Zachary is the director and editor of CleanTechnica and was also a Summit presenter. The videos can be seen at: http://cleantechnica.com/tag/ev-transportation-technology-summit/
---
EVTC Research Report Update
EVTC staff continuously publishes the results of their research, which can be found on our website. The individual research project's webpage highlights the project's objective, provides a brief description, and outlines the research results, their impacts and benefits. Currently, there are over 50 publications that can provide valuable and interesting information on everything from EV life-cycle assessments to the role of EVs in Smart Grid applications. Below is list of publications added during the last half of 2015 and the first quarter of 2016. A list of all EVTC publications can be found at: http://evtc.fsec.ucf.edu/publications/.
Below is list of publications added during the last half of 2015 and beginning of 2016.
---

General Interest


The National Renewable Energy Laboratory (NREL) recently released the results of a year-long study that revealed that the Battery Electric Buses (BEBs) had an average fuel economy that is nearly four times higher that than of the CNG buses in the study. The BEBs had an overall efficiency of 17.48 miles per diesel gallon equivalent (DGE), the CNG buses averaged 4.51 DGE. Source: National Renewable Energy Laboratory
Getting out of your autonomous EV to recharge the batteries doesn't really make sense. Google has been testing two wireless charging systems for their prototype self-driving cars. Both systems transfer power from a transmitter imbedded in the pavement using resonant magnetic induction. Source: IEEE Spectrum
Ian Wright, co-founder of Tesla Motors is the founder and CEO of an innovative company applying unique, cutting edge technologies for EV transportation. Their focus is on medium and heavy-duty fleet vehicles. Source: Wrightspeed Powertrains
Ever wonder what some of the testing and qualifications considerations are for the reuse of EV batteries? This article will provide a great introduction to the subject from a company that has extensive, real-world experience. Source: Charged Electric Vehicles Magazine
Street legal, fully electric Corvette sets speed record of 186.8 MPH at the Kennedy Space Center's Shuttle landing facility. The runway is also being used for autonomous vehicle testing. Source: Clean Technica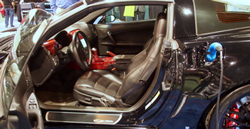 ---
Useful Links


EVTC's website includes a complete listing of all EVTC information, research projects, reports and staff.
U. S. Department of Transportation site for information on the 2015 transportation bill.
Visit the U.S. Department of Energy's Alternative Fuels Data Center site for electric vehicles. The site contains information on the different types of electric vehicles, the benefits and considerations of owning an EV, a recharging station locator, information on incentives and legislation, and much more.
This site provides information about the University Transportation Centers, including a listing of UTC centers, publications and external links related to transportation education and training sites.
The mission of the Transportation Research Board (TRB) is to promote innovation and progress in transportation through research. TRB is one of seven program units of the National Academies of Sciences, Engineering, and Medicine, which provides independent, objective analysis and advice to the nation. See the schedule of conferences and webinars hosted by TRB here.
The Transportation Research Board's Research in Progress (RiP) website contains more than 13,000 current or recently completed transportation research projects. http://rip.trb.org/
TRID is an integrated database that combines the records from TRB's Transportation Research Information Services (TRIS) Database and the OECD's Joint Transport Research Centre's International Transport Research Documentation (ITRD) Database. TRID provides access to more than one million records of transportation research worldwide. http://trid.trb.org/
ANSI serves as a coordinator for the development of EVSE and PEV standards by the Society of Automotive Engineers (SAE), the National Highway Traffic Safety Administration (NHTSA) and many others. Their November 2014 Progress Report, "The Standardization Roadmap for Electric Vehicles" is an excellent source of information on standards development for electric vehicles and the associated infrastructure.
Advanced Vehicle Testing (AVTA). Visit this site for extensive EV related data, research and development programs.
NREL conducts transportation research, development, and deployment (RD&D) to accelerate the widespread adoption of high-performance, low-emission, energy-efficient passenger and freight vehicles.